Wooden Mallet is the office furniture manufacturer you've been looking for. As a drop-ship supplier, Wooden Mallet allows you the flexibility to add our products without the extra overhead of inventory. Our industry-leading 24-hour turnaround on most items allows your customers to receive their products just as quickly as if you'd stocked them yourself. And best of all, our competitive pricing allows you extremely healthy profit margins.
Wooden Mallet's innovative products offer lasting beauty and durability. Whether you are looking for magazine racks, lobby chairs, coat racks, luggage racks and more – our variety of items will fit whatever your need is. Our high quality products are exactly what your customers want.
As a US manufacturer with over 30 years of experience, we understand the needs of our dealers: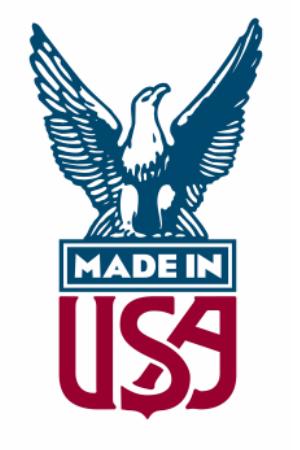 If you are interested in becoming an Authorized Dealer of Wooden Mallet products call 605.225.5081 or email us for more information.
Jim Kreber started his woodworking career in 1975 creating made-to-order pieces for local customers in Aberdeen, SD. His business eventually grew into what is now Wooden Mallet, manufacturer and wholesale distributor of wooden office and institutional fixtures. Today his son David Kreber has taken over the reigns of this family-owned and operated company.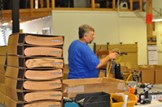 Quality and Customer Service
Wooden Mallet Prides itself on fast service. Our lean manufacturing process provides for a backorder rate of almost zero. Once Wooden Mallet receives your order, the products are assembled and drop-shipped directly to your customer via UPS or FedEx. Most items ship within 24 hours, our Dakota Wave furniture collections ship within 3 days. Being centrally located in South Dakota means your customers on both coasts receive products within days. Most products are shipped fully assembled so they can be used within a week of placing the order!
Meanwhile, the quality of the product is never compromised. Wooden Mallet uses solid oak sides and components. This construction provides a durable and solid product. All components are pre-finished before assembly to ensure an even finish in all nooks and crannies, and a better protected product.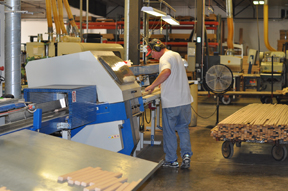 Through a constant, vigilant effort by the company's packaging department, Wooden Mallet has virtually eliminated freight damage. Statistics show that only 1 in 250 Wooden Mallet products are damaged in transit.
Of course, occasionally there are customer concerns that must be addressed. In these instances, Wooden Mallet strives for a quick and simple resolution of the problem.
All the quality and customer service, yet Wooden Mallet products remain very competitively priced. The company continually invests in production technology which helps keep product handling to a minimum, which in turn keeps prices down.
Equipment and Facility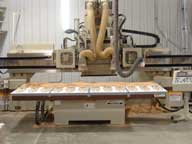 Some of Wooden Mallet's trend-setting technological equipment include 4 CNC routing machines, and laser engraving machine, and a state-of-the-art finishing system. The routing machines afford a better degree of accuracy as pieces are cut for assembly. The laser engraving machine enables products to be customized with any artwork or logo. The finishing system used by Wooden Mallet is one of the first of its kind in the Midwest. The system uses ultraviolet light to cure the finish; not only is the finish more durable, but the process meets the emission standards set by the Environment Protection Agency for many years to come.
Awards and Growth
For over 10 years, Wooden Mallet ranked consistently ranked in the top 100 of the Wood & Wood Products, Wood 100 Annual Report for Solid Wood and Panel Technology. In 1993 and 1994, the company ranked 13th in the nation; in 1995 72nd, in 1996 it rose to 18th, and in 1997 rose again to 11th. In 1998, the company ranked 13th, in 1999 25th, 2000 83rd, 2001 60th, and in 2002 Wooden Mallet ranked 93rd nationally. The ranking is figured on the company's percentage growth from the previous year. In fact the annual sales volume of Wooden Mallet grew a massive 1300 percent from 1993 to 2002.
Going GREEN
Worried about your carbon footprint? -Look to wood products!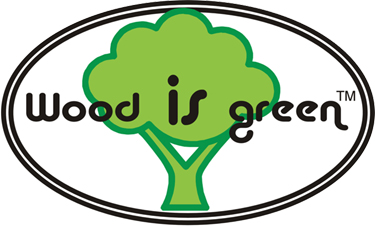 Did you know that wood is 1/2 carbon by weight? That is a good thing. Trees use solar power to take carbon emissions out of the air and store it in the wood that we use. Wood products also use less energy to make into finished products than plastics or steel. When you take these facts into consideration, you will find out that products made from wood are not only carbon neutral but actually carbon negative. That is to say that when you consider all the carbon emitted in processing the wood, the net result is still carbon storage rather than emission. Of course this carbon advantage only exists if the wood used is grown in sustained forests. Which is why Wooden Mallet only uses Northern Red Oak and other wood products that are grown in sustained forests in the United States and Canada.
At Wooden Mallet we take it one step further, we make sure our wood scraps and wood chips don't make it to the landfill. We use the wood chips (bio-fuel) to heat our entire production plant, warehouse space, and offices. We don't use any natural gas or petroleum products for heat. We also donate our unused scraps to local organizations and individuals to use for heating their facilities. The remainder of our wood chips and sawdust is used by local ranchers for animal bedding. We also recycle 100% of the cardboard scraps produced from our packaging process which eliminates foam and plastic inserts.
Wooden Mallet uses a high tech finishing system and finishes that are waterborne high solids and CFC free. This greatly reduces emissions in the air, is nonflammable, and has no odor.
All of our MDF, HDF, and other fiberboards meet the new CARB regulations which use substantially less formaldehyde in their manufacturing process.
Even our employees breath better at work due to our high efficiency dust collection system. We are constantly getting praised about how clean our work environment is, even by OSHA!
Some people say that GREEN is just a fad. That we go through it whenever we see an increase at the gas pumps. We get all excited about it and say we are going to change our ways, and after trying it for a while we just go back to our old ways. We come up with excuses like it is just "too expensive", "too hard to find green products", or "too inconvenient" for some reason or another. At Wooden Mallet we don't think GREEN is a fad. We believe it is a way of life. It is our planet and it is up to us to take care of it. And we have felt this way for a long time. Instead of spending our time coming up with reasons not to go green we prefer to come up with ways to go green. For instance, back in the 70's, Jim Kreber (founder of Wooden Mallet) spent his free time after work to build an electric car because he believed it was the right thing to do. He also built a wood scrap boiler and hot water radiator system to heat the original plant. Some other things that the owners are doing in their personal lives to help the planet include: driving a hybrid automobile, driving a modern diesel vehicle (gets better mileage than the hybrid), buy ethanol enriched gasoline, heat and cool home with geothermal, heat domestic water with geothermal, use reusable bags when shopping, recycling everything possible in our community, filter our own drinking water instead of purchasing water in disposable bottles, as well as many other seemingly small steps that we believe will have a large impact in the future. What are you doing to help your planet? I hope you are doing everything that you can. Just remember that every step towards GREEN is a step in the right direction.